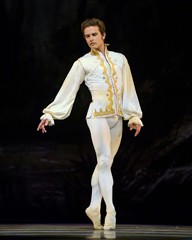 ROMEO AND JULIET 2016
October 15 and 16
Press Release
The METROPOLITAN BALLET
Minneapolis/St. Paul
October 1, 2016
FOR IMMEDIATE RELEASE Metropolitan Ballet stages the classic production of Romeo and Juliet October 15 - 16, 2016
YOUTUBE VIDEO TRAILER
https://youtu.be/SJLp0Goiph0">[YouTube VIDEO]
MINNEAPOLIS, Minnesota – September 26, 2016 – Metropolitan Ballet, a Twin Cities' premier ballet company for performance and professional training, begins their 2016-2017 season with an exquisite full-length production of Shakespeare's Romeo and Juliet. The performance of this beloved and alluring tale of two lovers celebrates 400 years of playwright William Shakespeare. Metropolitan Ballet honors Shakespeare's lasting contributions to the arts with the performance of the most recognized romantic tragedy in the history of literature set to the original ballet score composed by Sergei Prokofiev. The ballet will be presented on Saturday, October 15 at 7:30 pm and Sunday, October 16 at 3:00 pm at the Auditorium at Hopkins High.
Romeo and Juliet takes place in Verona, Italy during the Italian Renaissance. The tale persuasively portrays the romance between two young lovers whose tragic deaths reconcile their feuding families. It is among Shakespeare's most popular and frequently performed plays. Shakespeare is regarded as the world's greatest dramatist and produced Romeo and Juliet between 1591 and 1595.
Russian born Sergei Prokofiev (1891-1953) composed the original music for Romeo and Juliet, mixing emotive, moving moments with his talent for building dramatic energy. As Prokofiev's first composition of a full-length ballet, the masterpiece quickly became a highly acclaimed success. Today Romeo and Juliet is one of the most popular ballets in the world. Prokofiev's famed music from the ballet is also recognized widely in the composition of three suites for orchestra and in a work for solo piano.
Metropolitan Ballet Company boasts some of the most accomplished professional dance artists from the Twin Cities. The recently expanded company of dance professionals will perform the venerable and beloved work with special guests Andrew Taft as Romeo, Yuki Tokuda as Juliet and Cristian Koenig as Mercutio. GUTHRIE THEATRE luminary RICHARD OOMS returns to our stage for a special appearance as the Prince of Verona!
ANDREW TAFT was born in Miami, Florida where he began his classical training at the age of nine with Ruth Wiesen at the Miami Conservatory. He studied also with Thomas Armour, Robert Pike, Nancy Raffa and other professional guest artists. He trained in both Limon and Graham technique at the New World School of the Arts. His ballet training continued in New York City with private coaching by Johan Renvall and David Howard. Andrew has danced leading roles with Michael Uthoff Dance Theatre, Miami Ballet, Francis Owen/Cox Dance,Ballet Hawaii, and Miami City Ballet. Notable roles include Franz in Coppelia, Soloist in Theme and Variations, Prince Charming in Cinderella and The Bluebird in The Sleeping Beauty. In 2011, Andrew had the honor to perform for Michelle Obama and her daughters in Ballet Hawaii's The Nutcracker. Andrew joined Ballet Idaho in the 2008 season and has been a principal since 2012. He has danced leading roles in Yes, Virginia, Another Piano Ballet, The Nutcracker, Romeo and Juliet, Pulcinella, A Midsummer Night's Dream, Piano Concerto in G, Firebird and many others.
YUKI TOKUDA is originally from Japan, was trained under Mikiko Dei, Hideo Fukagawa and Jun Ishii. She moved to the United States in 2000 to complete her training and to pursue a professional career in ballet. Ms.Tokuda trained at the prestigious Joffrey Ballet School in New York and with David Howard, John Prinz, Fabrice Herrault and Michael Vernon at Steps on Broadway as a International Visa Program student. She also spent summers studying at the Boston Ballet and the Connecticut Ballet. Ms.Tokuda has danced professionally with the Metropolitan Ballet, Peoria Ballet, USA Ballet, Cities' Classical Dance Ensemble and was the principal dancer of Continental Ballet Company for six years. She has performed the roles of Lucile Grahn in Pas de Quatre, The Peasant Pas de Duex in Giselle, Princess Aurora, Lilac Fairy and Princess Florine in Sleeping Beauty, La Corsair Pas de Duex, Don Quixote Pas de Duex, Les Sylphides, the Sugar Plum Fairy and Clara in The Nutcracker, Odette and Odile in Swan Lake, Coppelia and Giselle. She is a certified STOTT Pilates teacher. Ms.Tokuda returns to Metropolitan Ballet for this special production of Romeo & Juliet!
CRISTIAN LAVERDE KOENIG was born in Cali, Colombia and received his professional training at The Instituto Colombiano de Ballet (Incolballet) and The Escuela Nacional de Ballet de Cuba under a full scholarship. He has been a soloist for The Ballet Nacional de Cuba, Ballet de Cali, Hartford Ballet and Ballet Internationale, and has served as principal dancer for the Maximum Dance Company, the Milwaukee Ballet and the Slovak National Ballet. Other repertoire includes principal roles in classical ballets such as Basilio in Don Quixote, Franz in Coppelia, Siegfried in Swan Lake, and the Grand Pas de Deux from Corsaire, among others. He has also performed works by world-renowned choreographers such as George Balanchine, Twyla Tharp and Martha Graham. Mr. König has been the recipient of various prestigious national and international awards and is currently a freelance artist residing in New York City.
Richard Ooms has performed in more than 90 productions at the GUTHRIE since 1981, most recently The Burial at Thebes and Happy Days. Theater Most recently: Jungle Theater's A Funny Thing Happened on the Way to the Forum; Park Square Theatre; Ten Thousand Things; Door Shakespeare Company; Indiana Rep; Huntington Theatre; Repertory Theatre of St. Louis; Gremlin Theater; Pangea World Theater; The Acting Company: member 1972-80. Film/ Television: The Thirteenth Warrior, The Time of Your Life, The Duck Variations. Awards: Twin Cities Kudos Award. Training: Goodman Theatre School of Drama
Metropolitan Ballet dancers rank among the finest performing in the greater metro area and this ballet brings their artistry to the community in a way that is both educational and exciting. It's important to bring these productions to the stage and we look forward to seeing these incredible artists perform together. They bring a level of artistry and drama to the stage that is not often witnessed! ~ said Sanborn, Artistic Director/ Producer. Professional company dancers here are instructed under the renowned talents of Lirena Branitstki, Erik Sanborn and Ballet Master Kira Petersen.
Romeo & Juliet tickets may be purchased directly from Metropolitan Ballet by calling (866) 811-4111 or online at www.metroballet.org. Tickets range from $29-$49. Student and Senior discounts are available. The ballet is delightful for all ages. As a gift to the community in celebration of Shakespeare, the Metropolitan Ballet is offering a special BUY 1 GET 1 FREE promotion (promo code: Juliet).
About Metropolitan Ballet and Academy Metropolitan Ballet and Academy was founded in 2002 by Artistic Director/Producer Erik Sanborn to bring innovative new works and classic full-length ballets to the Twin Cities, a community that values and embraces the arts. Metropolitan Ballet is recognized as a premier ballet company for performance and professional training.
Additional productions for the season include Nutcracker (December, 17-18, 2016), La Bayadere (April 8-9, 2017) and A Midsummer Nights Dream (June 24-25, 2017).
Media contact:
Erik Sanborn
Artistic Director/ Producer
Metropolitan Ballet
metroballetinfo@gmail.com
Phone: 763-742-4686
.